2012
IARC Monographs on the Evaluation of Carcinogenic Risks to Humans

VOLUME 105: DIESEL AND GASOLINE ENGINE EXHAUSTS AND

SOME NITROARENES

Lyon, France: 5-12 June 2012
12/06/2012 –
Videocast, Dr Christopher Wild, IARC Director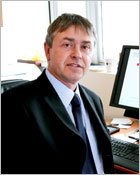 Dr Christopher Wild, IARC Director, answers a few questions on the IARC Monographs Meeting, Volume 105.
What kind of engine exhausts did you study?
Which carcinogenic substances were identified?
How do these carcinogenic substances affect the human body?
Can diesel affect other organs than lung?
Is it only occupationally exposed people that are at risk?
Should this evaluation lead to tighter controls on diesel exhaust?
Is there anything that can be done now to protect people?
Are the new diesel engines so clean that the findings from this Monograph meeting are no longer relevant to today´s situation?