DR ELISABETE WEIDERPASS, IARC Director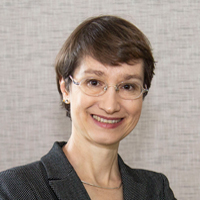 The Director of the International Agency for Research on Cancer (IARC) is responsible for the leadership of the Agency by providing: the general framework for attainment of the Agency's mission in accordance with the IARC Statute, Rules and Regulations; the development of a Strategy and Implementation Plan that sets out the overall vision, direction, and focus of the Agency's research programme; and oversight of the day-to-day operations of the Agency.
The IARC Director is advised by the Senior Leadership Team, a consultative body comprising the Director of Administration and Finance, all the Heads of research Sections, the Strategic Engagement and Resource Mobilization Officer, the Head of the Communications Group, the Head of the Education and Training Group, and the Equality and Diversity Officer.
Dr Elisabete Weiderpass, MD, MSc, PhD, is a Brazilian cancer researcher who is a naturalized Swedish and Finnish citizen. She is an expert in cancer epidemiology and cancer prevention. She took office as IARC Director on 1 January 2019.
Dr Weiderpass previously served as leader of the Department of Research at the Cancer Registry of Norway, and of the Genetic Epidemiology Group at the Folkhälsan Research Center in Finland. She was a Professor of Medical Epidemiology at the Karolinska Institutet in Stockholm, Sweden, and a Professor of Cancer Epidemiology at the Arctic University of Norway. She also held Adjunct Professorship positions in Cancer Epidemiology in Brazil, China, and the Islamic Republic of Iran, and was a Visiting Professor in Kuwait. She is the author of more than 700 scientific publications in peer-reviewed international journals.
Dr Weiderpass, what would you like to achieve as IARC Director?
"The global cancer epidemic is growing in size and in complexity.
The number of research players in the global arena who are interested in cancer has never been so high, yet prevention measures in terms of investment and political commitment still lag far behind investments in cancer therapies and curative treatments at the global level.
IARC will therefore increasingly focus its activities on producing cancer research of the highest quality and potential public health impact: producing evidence-based knowledge to support public health policy decision-making processes."
What are IARC's specific assets in this regard?
"IARC must remain the global reference for regulatory agencies, governments, and international organizations to propose evidence-based prevention strategies at the global level, with a particular focus on low- and middle-income countries.
IARC must be a trusted organization in producing relevant science for public health policy and for public good, independent from vested interests.
IARC will continue to work closely with the World Health Organization and other international organizations to maximize the public health impact of the knowledge produced."
Photo credits
Photo 1: CC-BY-SA 3.0 IGO. IARC/M Stenmark
Photo 2: CC-BY-SA 3.0 IGO. IARC/M Sarzo
CC-BY-SA-IGO
License information